Could these guys get any funnier?! Dad-jokes aside, we are delighted to welcome Damon Young and Peter Carnavas to the blog to discuss their fantastic partnership on their picture book series. We reviewed 'My Dad is a Dragon' here earlier in the week, and today we are lucky enough to have its creators spilling the beans, or chilli, or spiky blocks… on how it all came about. 
---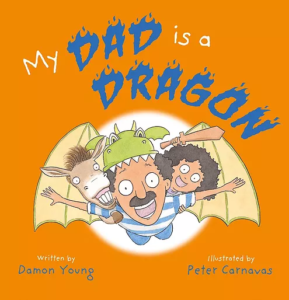 Congratulations on the release of another exciting book in the series – My Dad is a Dragon!
How did the collaboration for the series first begin?
P: Our eyes met across the dancefloor and I knew… actually, I just received a call from UQP. Kristina, the children's publisher at the time, asked me if I was interested in illustrating a book (and potential series). As soon as I heard the title, My Nanna is a Ninja, I signed up.
D: It was amazing. Peter Carnavas was actually made from scratch in a specially-designed workshop, which builds peerless and tireless Genius Illustrators. Look, that might not be wholly true. I submitted my manuscript, and the ace editors at UQP suggested Peter. I agreed. It became obvious really quickly that he was perfect for the series.
Has the entire series been planned out from the beginning or has each title arisen more spontaneously?
P: We knew early on that the idea had the potential to become a series. Anything involving families like this can grow to focus on different family members. I threw in a few suggestions but I left most of the individual book ideas to Damon.
D: We always wanted to do a whole family, but each member of the family was invented year-by-year. So we began with "ninjas" (everything should begin with ninjas) then just made things up.
Have you surprised each other with any unusual or challenging ideas at any point? What secrets can you reveal about the process?
P: Everything about Damon surprised me. His comic book shirts, his ability to throw philosophical tangents into our kids' shows, and when he signed a book to my Greek dad… in Greek! And every manuscript was full of unexpected delights. My favourite part of the process was pairing each character with an animal friend. I'd draw a bunch of animals, then we'd choose our favourite ones and match them up (though I'm still a tiny bit sad we didn't put that marabou stork in there).
D: With each book, I've tried to pack in more rhymes, alliterations and rhythms. More silliness, more absurdity. Then it's Peter's job to somehow make sense of it all. How do you draw a dad who's also a dragon—but not a scary sheep-stealing, town-razing sort? Peter found a way.
Who works harder? Author or illustrator? 😉
P: I've done both, so I know it's the illustrator 🙂 But really, Damon toils over his drafts, and I whip up the pictures with one eye closed, one hand behind my back, while lazing on the beach and sipping a milkshake.
D: Editors!
What does fatherhood mean to you both? Give us your biggest 'dragon-dad' moment!
P: Fatherhood means I don't get to play my music in the house anywhere near as much as I'd like to. I'm not the roaring dragon type, really. If anything, I'm the dragon dad in the final scene of the book, wrapping his wings around his daughter.
D: This might seem sentimental, but I have absolutely relished being a dad. Introducing our kids to books, movies, philosophy—such a thrill. And then being introduced, in turn, to our kids' personalities and passions? So brilliant. But my favourite "dad is a dragon" moment actually happened to my son. Our dragon dad enjoys hot chilli, right? Well, our boy Nikos once mistook wasabi for avocado.
What is your favourite part of My Dad is a Dragon? Why?
P: I love the wacky scenes that I would have never expected to draw, like the singing donkey and the skateboarding hedgehog. Most of all, I love the bedtime scenes at the end.
D: I am very excited to be one of the dads! I'm the sword guy, with the bear and the swaying daughter. (I don't actually have a bear, but I do have swords and a daughter.)
What tips can you give aspiring writers and illustrators on working as a partnership? What to do and what not to do?
P: What to do? Simple. Work with Damon. But if you can't work with Damon, and you end with someone else, respect is key. Also, it's very handy having a great editing team tapdancing in the middle.
D: "Partnership" is the important word there. Peter has ideas for words. I have ideas for illustrations. We influence each other. And our books would be more dull and less creative if we didn't listen to each other.
Can you reveal anything about your next collaboration for all your fans?
 P: Dragon Dad closes the series (NOOOOOOO!). As for future collaborations, we might take our acrobatic stunt show on the road one day (I haven't talked to Damon about this yet).
Thank you, Damon and Peter, for answering my questions! And Happy Father's Day! 😊
Damon Young is a philosopher and writer. He's the author of several popular nonfiction books, including Distraction, Philosophy in the Garden and How to Think About Exercise. He's also the editor of Martial Arts and Philosophy: Beating and Nothingness. Damon's books have been published internationally, and translated into several languages, including Dutch, Spanish and Turkish. He's written columns and opinion for The Age, The Sydney Morning Herald, The Australian, the ABC and BBC, and he's a regular radio guest. Damon has also published poetry and short fiction. He lives in Melbourne with his wife, Ruth, and two editors (also known as children). Visit him online at www.damonyoung.com.au
Peter Carnavas grew up in Brisbane and on the Sunshine Coast in Queensland. He became a primary school teacher and it was during this time that he began to immerse himself in picture books. His first book, Jessica's Box, was shortlisted for the 2008 Queensland Premier's Literary Award and the 2009 CBCA Crichton Award for Emerging Illustrators. He has since written and illustrated many picture books, which have been translated into German, Italian, Portuguese and Dutch. Peter lives on the Sunshine Coast with his wife, two daughters and a scruffy dog that occasionally escapes. Visit him online at www.petercarnavas.com
Information sourced from https://www.uqp.uq.edu.au.