#maxboothfuturesleuth #chipblip #bookcampaign #booksontourpr #day1
We are absolutely delighted to welcome back talented author, and all-round funny man, Cameron Macintosh, for another spectacular book campaign! We can't recommend Cameron's Max Booth Future Sleuth series highly enough, with every new title offering plenty of laughs, suspense and new gadget discoveries galore! Check out our previous campaigns for Stamp Safari and Film Flip at the links. This week, we present Chip Blip (illustrated by Dave Atze); a fast-paced, exciting chase set in 2424, to find an invaluable, highly-sought-after artefact that could easily end up in the wrong hands. So, get set for an adventure with Cameron, Max and Oscar that is out of this world! 
---
A little bit about Cameron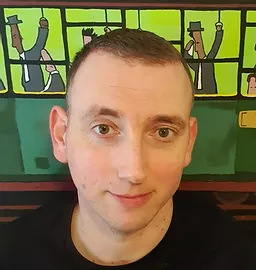 Cameron Macintosh has written more than 100 books, including plays, science-fiction and non-fiction. His books have been published in many countries around the world. Some of them have even been part of award-winning series. Most of them are available in print and digital format.
Cameron studied Psychology and Italian at Melbourne University, and Professional Writing at RMIT. After that, he became an editor, and in 2008, a lovely publisher asked him to write a book about the Beaconsfield mine disaster. That was the beginning of a new direction – writing for the classroom. And now, he is also a successful children's author with the publication of the Max Booth Future Sleuth series.
In the few minutes per week that he isn't wrestling with words on the laptop, Cameron loves singing and playing the guitar, and reading music biographies.
Chip Blip is the fifth title in his popular Max Booth Future Sleuth series, and we are thrilled to be taking it on tour this week!
Follow Cameron Macintosh at the following links:
Website: www.cameronemacintosh.com.au/
Facebook | Twitter | Instagram | YouTube
Max Booth Chip Blip has its own book profile video! Learn more about this awesome title here… 
Watch the official book trailer here…
Max Booth Future Sleuth: Chip Blip is available to purchase at Big Sky Publishing | Booktopia
---
Follow the treasure trail with Cameron Macintosh and his fifth title in the Max Booth Future Sleuth series; Chip Blip, with special appearances at the following media sources…
Organised by Books On Tour PR & Marketing. Email: info.booksontour@gmail.com