Following on from Kellie's terrific Father's Day round-up of cute books for dads, we've added a couple more to the list – one sweet, the other fiery! Happy Father's Day and Special Person's Day to all! 🙂
Up to Something, Katrina McKelvey (author), Kirrili Lonergan (illus.), EK Books, May 2019
So clever! A book full of hidden surprises, both in the narrative and in the illustrations! A book about teamwork and collaboration; which is exactly the way this creative author and illustrator pair – Katrina McKelvey and Kirrili Lonergan – have brought their talents together to produce something wonderful.
Billy longs to work with his Dad in his shed with all his tool-wielding, building tasks. But protective Dad suggests Billy be his assistant instead. Rather, Billy has his own ideas, and as it turns out, a talent for construction, too! I love the determined, playful and energetic attitude emanating from the text as McKelvey crafts her characters, their relationship, and the idea of endless possibilities. Lonergan brings more life and encouragement for future creative prospects to the viewers' eyes with her subtle inclusion of collaged sheet music and newspapers (which, for discerning readers will uncover some further language opportunities).
Up to Something is a combination of resourcefulness, potential, synergy, and love – all the right materials needed to build up connections between children and their special person this Father's Day.
My Dad is a Dragon, Damon Young (author), Peter Carnavas (illus.), UQP, August 2019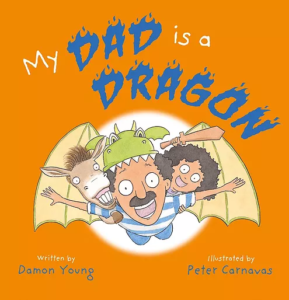 The ever-so-popular family series, including My Nanna is a Ninja, My Pop is a Pirate, My Mum is a Magician, etc, is back again just in time for Father's Day with the 'rip-roaring' title, My Dad is a Dragon by the indominable duo, Damon Young and Peter Carnavas.
There are fun and smart, strong and savvy, creative and daring dads-a-plenty in this witty collection of fathers and their useful (and not-so-useful) skills and special belongings. I love the specific detail Young identifies to appeal to his early years' audience, including 'pointy pencils for designing busy bridges', 'special suits to stop bees from stinging', and 'Some dads yell 'Yow!' stepping on spiky blocks.' Then every so often the narrator refers to her own dad as 'a dragon' because of his 'fiery' behaviour and not-so-apt things that dads do (which seems often to involve being greedy and burning things!). Carnavas is cunning, callous and absolutely hilarious with what he brings to the illustrations; providing non-stop laugh-out-loud moments showing dads in all their somewhat flawed glory that makes them so laughable… I mean, loveable. But at the heart of these amusing wisecracks, is the heart of dads and their unconditional, well-intentioned love they have for their children.
My Dad is a Dragon is a smoking hot gift to share with dads all year round.
Thanks to UQP for a complimentary copy of My Dad is a Dragon in exchange for an honest review.
Reviews by Romi Sharp.